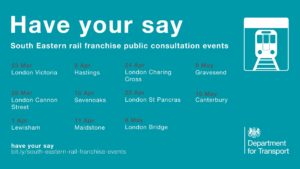 The Department for Transport are holding one of their series of public consultation events at Sevenoaks station concourse on Monday 10 April from 1600 to 1900. This follows their session at our Annual General Meeting last year; now they are seeking views and responses on their full consultation paper.
It's important that as many rail users as possible make their views known at every opportunity. While written responses can be submitted up to 23 May, talking face-to-face to the team in charge of the specification of the new services is the best way to influence them.
Issues that Sevenoaks passengers might want to raise include:
the extension of the TfL "Oyster" pay-as-you-go fares system to Sevenoaks. Oyster would give integrated fares from Sevenoaks to any tube station in London and would always charge the lowest possible fare for the journey actually made. (Southeastern's "Key" system does not do this.)
the future of First Class: the consultation document specifically asks whether First Class should be withdrawn.
the provision of extra capacity: passengers from Sevenoaks are regularly having to stand on peak-hour trains, even though the Department for Transport standard says that there should be enough seating for journeys to London over 20 minutes.
the right incentives on the operator to improve services. Currently rail operators are measures on whether trains are on time not whether passengers are on time; that's given perverse incentives to terminate peak-hour Sevenoaks trains at Orpington or to skip stops in order that the next, empty, train will be on time. How can the incentives on the operators be aligned with the real experience of passengers.
make sure that the Department for Transport do not forget about Dunton Green, Bat & Ball and the other smaller stations in our area.
If you talk to the team, please let us know your view and what they said here, so that we can reflect these in our formal written submission.