From next Monday, 26 September, access to the Underground from Charing Cross Station will be closed until July 2017. This is to allow refurbishment of the "Northern Line" ticket hall. Once this ticket hall is re-opened, the "Bakerloo Line" ticket hall under Trafalgar Square will then be closed for refurbishment until December 2017.
To access the Bakerloo Line one can walk to Trafalgar Square.
For the Northern Line the best option is to use Embankment station. However Network Rail intend to close the stairs down to Villiers Street in morning and evening peaks:
REMINDER: from Monday 26.09.15 there will be no access in the AM & PM peaks via Villers Street to the station, due to the LUL closure

— London Charing Cross (@NetworkRailCHX) September 19, 2016
They say this is to allow smoother & safer passage from Charing Cross and to overcrowding, particularly by the entrance to platforms 1-3. They've published a photograph of the modelled passenger flow if the stairs were open. We'd guessed that with the stairs closed there might also be congestion at the station exit by the Boots shop, but Network Rail seem confident that it will be OK.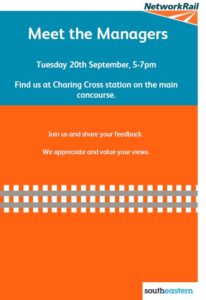 Of course, the Villiers Street entrance now has more capacity as the escalators have re-opened and the high-level walkway to Embankment and Hungerford Bridge has been restored. However these will also be closed in the morning; in the evenings the escalators and the walkway will be open but the stairs will be closed.
Customers can ask Network Rail about all this at their "Meet The Manager" on Tuesday 1700-1900 at Charing Cross
On the work on the Underground ticket hall itself, Mark Wild, Managing Director of London Underground, has said:
The Northern line ticket hall at Charing Cross was opened in the 1970s, and now feels tired and unwelcoming. This work will improve the ticket hall, making it bright, modern and a better place for our customers to pass through. It will also make the station fit for the large number of passengers that pass through it every day and future-proof it as the demand on the Tube increases while London continues to grow. 
The work will also create new retail space and a new, larger entrance to the Northern line ticket hall.
Update 26 September: The tunnel from the bottom of the Trafalgar Square escalators to the Northern Line platforms is still open – it is only the Nothern Line upper ticket hall that is closed. There is a large notice to tell people that there is only access to the Northern Line platforms and, this morning, two friendly staff checking that people were not trying to go to the ticket hall or the railway station – and saving them a long walk!